8731 - Villa Mulino a Vento to sell in Pianoconte, Lipari
Sea view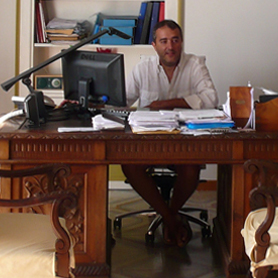 Alfredo Gennaro D'Agata
Contact Agent
Description
Big and prestigious real estate with sea view (180 degrees) on Faraglioni and historic centre to sell in Lipari, Milini a Vento zone. All restructured, this property, is made up by three main, adjacent buildings, including two little buildings. The main structure was built on two levels, on the ground floor there is a big living room with fireplaces, kitchen, storehouse, bathroom and uncovered terrace. On the first floor: three bedrooms, bathroom and a big, covered terrace.
The second building is made up by a living room, bedroom, bathroom, little kitchen and a double covered terrace.
The third service building, is made up by two bedrooms, bathroom, kitchen and external
access.
Excluded by the property in object, covered and uncovered terraces with showers, barbecue, lawn garden and car park zone at the back of the structure. In common with another two stuctures there is a covered car park and another garden.
Amenities
Energy Class G
Outdoor Pool
Sea at 2km
Top House
Exchange
Similar Properties
FOR SALE
Villa unica Pianoconte Lipari
Pianoconte
FOR SALE
Appartamenti mulino a vento Pianoconte Lipari
Pianoconte
FOR SALE
Vendesi nuda proprieta villa Pianoconte Lipari
Pianoconte
FOR SALE
Villa Quattrocchi Lipari to sell
Vista mare
FOR SALE
Casa al tramonto Lipari
Vista mare
FOR SALE
Casa Quattrocchi Pianoconte Lipari
Vista mare
FOR SALE
Villa unica Pianoconte Lipari
Pianoconte
FOR SALE
Appartamenti mulino a vento Pianoconte Lipari
Pianoconte
FOR SALE
Vendesi nuda proprieta villa Pianoconte Lipari
Pianoconte
FOR SALE
Villa Quattrocchi Lipari to sell
Quattrocchi
FOR SALE
Casa al tramonto Lipari
Pianoconte
FOR SALE
Casa Quattrocchi Pianoconte Lipari
Quattrocchi
FOR SALE
Villa unica Pianoconte Lipari
Pianoconte
FOR SALE
Appartamenti mulino a vento Pianoconte Lipari
Pianoconte
FOR SALE
Vendesi nuda proprieta villa Pianoconte Lipari
Pianoconte
FOR SALE
Villa Quattrocchi Lipari to sell
Quattrocchi
FOR SALE
Casa al tramonto Lipari
Pianoconte
FOR SALE
Casa Quattrocchi Pianoconte Lipari
Quattrocchi