9263 - Vendesi villa vista mare Quattropani Lipari
Vista mare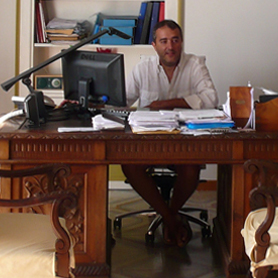 Alfredo Gennaro D'Agata
Contact Agent
Description
Beautiful villa in a dream location
This sunny property is located on the Aeolian island of Lipari, nested in the island's hills (Quattropani) with breathtaking sea views towards the islands of Alicudi, Filicudi and Salina.
The modern villa consists of two independent apartments on two separate floors, combining 151 m2 of living space. The whole estate covers 5245 m2 of land, including fruit orchards and vines.
The spacious upper floor 3 bedrooms apartment includes a modern designer kitchen and also serves as dining room. The living room with a fireplace leads onto the covered West terrace, where unforgettable sunsets are guaranteed. Two bedrooms and a bathroom are also part of the upper apartment. From the sheltered South-facing terrace, a wide staircase leads to the lower apartment and its spacious garden. The lower floor apartment consists of three bedrooms, a bright living room, a designer kitchen, a bathroom and a technical room. A large covered terrace complements the spacious set up.
The property meets the highest technical requirements. All rooms have underfloor heating. Two large cisterns guarantee an independent water supply. The villa is connected to the public electricity grid and has satellite as well as WIFI access.
The property is easily accessible by car all year round and has two covered parking spaces.
Built in 2002, this unique villa was completely renovated in 2018. A sale can be arranged immediately.
All legally required certifications are met and available upon request.
Amenities
Energy Class C
Outdoor Pool
Sea at 5km
Top House
Exchange
Similar Properties
FOR SALE
for sale property to be renovated on Quattropani Lipari
Quattropani
FOR SALE
Casa eoliana Quattropani
Quattropani
FOR SALE
Fabbricati Rurali Serro Fico Quattropani Lipari
Quattropani
FOR SALE
Vendesi rudere panoramico Quattropani Lipari
Vista mare
FOR SALE
Casa eoliana Quattropani
Vista mare
FOR SALE
Antico palmento Quattropani Lipari
campagna
FOR SALE
for sale property to be renovated on Quattropani Lipari
Quattropani
FOR SALE
Casa eoliana Quattropani
Quattropani
FOR SALE
Fabbricati Rurali Serro Fico Quattropani Lipari
Quattropani
FOR SALE
Vendesi rudere panoramico Quattropani Lipari
Quattropani
FOR SALE
Casa eoliana Quattropani
Quattropani
FOR SALE
Antico palmento Quattropani Lipari
Quattropani
FOR SALE
for sale property to be renovated on Quattropani Lipari
Quattropani
FOR SALE
Casa eoliana Quattropani
Quattropani
FOR SALE
Fabbricati Rurali Serro Fico Quattropani Lipari
Quattropani
FOR SALE
Vendesi rudere panoramico Quattropani Lipari
Quattropani
FOR SALE
Casa eoliana Quattropani
Quattropani
FOR SALE
Antico palmento Quattropani Lipari
Quattropani